Meet Jessica!
Isn't she pretty? She's the first, and new release of mesh heads from Catwa Clip, who's primarily done hair and clothing… until now. Upon arriving to the store, I first grabbed the demo as I wanted to see what I was getting myself into before deciding to take the plunge. Okay, not too bad. After a few moments of fiddling around with it, I went in for the kill. At L$3,599 Jessica is certainly on the mid-high end of the spectrum, but for the options that are offered, I feel like it is a reasonable price. Here's why:
When you first receive the folder, you'll find it contains two versions of the head, with and without materials. You'll also find two different HUDs, one for the head itself and another for a complete color line of hair-bases which match those from Catwa's hair store. There is a one shade default skin, but you are given the ability to adjust RGB values to match one of your choice. The shade itself is pretty close to that of Glam Affair's America/Asia tones, which is what I use with my Maitreya mesh body, but unfortunately, doesn't line up quite well where the head and body meet.
The textures of the head itself are not horrible, but they are definitely in need of some work. There are blending issues all over, especially in the neck and cheek areas, the ear textures are flat, highlights and shadows beneath the brows and around the mouth are grainy and blurry and there is definitely too much of a highlight across the front of the face, so it looks like an old school face light is shining right on you. But, given that it is a default skin- it isn't exactly a deal-breaker.
The options included with the HUD, even for the default skin, are pretty neat. Included are eight lipstick colors, five eyeliners, three blushers and eight brow colors. You can also choose from four different lash styles, as well as four static eye shapes, ranging from fully open, to closed. What is also great are the number of save slots available on the HUD, which, as appliers are created (a developers kit is included) will allow you to save all of your favorites to the HUD, without having to dig through your inventory for the same appliers over and over.
Easily one of the defining aspects of Jessica, are the animation options. Even though I don't really have a particular use for them myself, I have to admit they are pretty good. I love how the different aspects of the face all go into each animation, from the movement of the brows and eyes, to the mouth and chin. At first, I was stumped on how to get the gestures to stop but after clicking around for a few minutes, I discovered that you need only click on the animation again to get it to stop (hence the outline of the box.) The play and pause button gives you the option of keeping the animation static, or allowing it to ease in and out.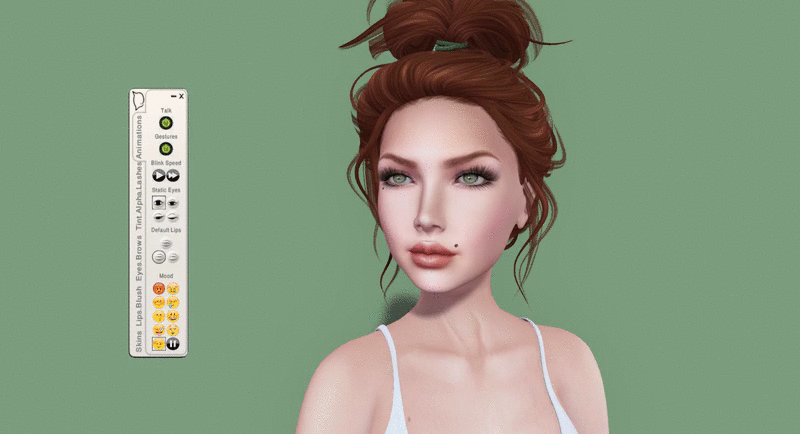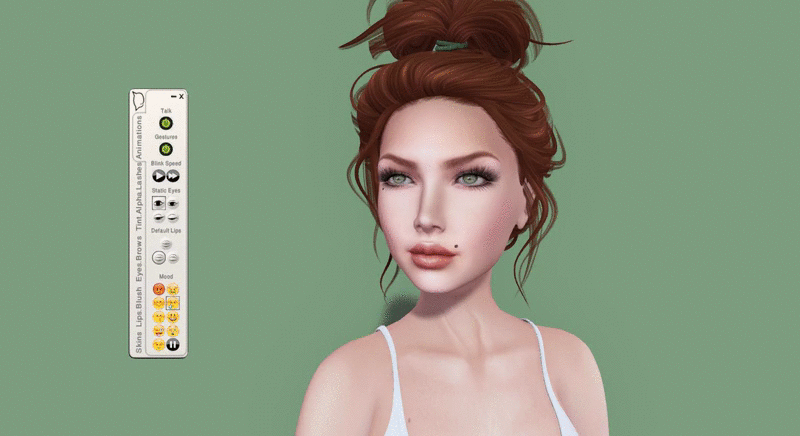 Pros:
The lashes. These are by far the best mesh head lashes out there and with any luck Catwa will release her first update to allow for these to be worn independently of the head.
HUD options. I absolutely love all of the save slots for custom skins, textures and makeup options. This is especially useful when you want to change your skin, or add your own textures.
Works with the Maitreya and Belleza mesh bodies right out of the box.
RGB values. On top of skin appliers, this allows for further customers of skin, hair-base and lash colors.
Alpha and alpha mask options to hide/blend lashes, ears and the top of your head- something that is sorely missing from many of the mesh heads out there.
Three different mouth options: parted lips, upturned and down-turned corners.
The gestures/animations.
Cons:
Lack of appliers. Though I am sure as popularity rises, this will change. In the meantime, there are some creators that will soon be available with appliers, a full list which can be found here.
Customization/lashes. As with a few rigged mesh heads, you can adjust some aspects of your head shape, using the head stretch and length options; however, if you do change these options, it is unlikely that your beautiful lashes won't line up properly with the mesh head. Boo.
Eyes. Jessica works only with the use of mesh eyes, which can be a good or a bad thing, depending on how you look at it. For me, my favorite eyes are not mesh, so I did have to play around to find something that suited my needs. Fortunately, Catwa has included a notecard that gives you pointers on how to fit your mesh eyes.
The nose. Just… no. Of course this is purely my opinion, but I honestly found it too pointy, too upturned and a bit like a beak when seen from the profile. Should the attached lashes and the head stretch/length options be resolved, my opinion will definitely change in this regard.
Default skin. As I mentioned above, it definitely needs some work, so appliers will likely be in high demand.
Overall, Jessica has a cutesy type of face and one I wouldn't be opposed to wearing often but for the con's listed above. The included "must wear" shape is hardly necessary and useful only to ensure you have the right head stretch/length settings to accommodate the position of the lashes. With a small bit of adjusting, I was able to keep my original shape easily enough. Other than the need for a little more work on the default skin and the waiting for appliers to be released, Catwa's mesh head shows promise.
(Note: All images are unedited with the exception of cropping.)